Distortion & Noise | Be Real Do Better – The Small Business Marketing Show, Ep. 26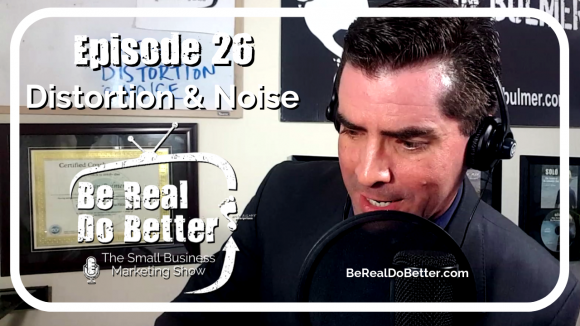 Would you like to improve the return on the investment you're making – in time and money – related to your marketing and advertising? If so, this is essential to understand, and really fundamentally quite simple:
If the message doesn't connect, the method of delivery doesn't matter. It's just more noise.
To put it another way, if you have a recording that is distorted or unclear, playing it louder or more often does not make it more effective. It just makes it more noise.
This is a trap that still snags most local marketers who are stuck in the 20th century, playing the "top of mind awareness" game, thinking volume and frequency instead of connection and clarity.
Advertisers keep looking for the magic medium, but if you transfer the same old advertising cliches and stereotypical, self-centered advertising-speak that you've used on radio over to Instagram or Facebook, it's not the new media's fault that people don't care.
Improve the message. Make it more authentic, more relatable, more human and more about the people you're looking to serve and their needs, as opposed to the same-old same-old that we keep hearing and seeing from every other marketer and have long since tuned out.
Stop making noise.
Stop interrupting.
Stop thinking like an "advertiser," and start thinking like a human being. Start connecting, engaging and interacting.
Do that, and you'll stand out almost immediately.
Want to use iTunes for audio? Click Here.
Watch This Episode:
Click Here to visit YouTube & subscribe
---
Resources
Enter your email to get my Free PDF Guide: "Better Marketing Results in 3, 2, 1 … Go" and stay up-to-date on future shows and marketing help:
For my podcast on personal and professional growth, "Journeys with the No Schedule Man," Click Here
Other Recent Episodes You Might Like …